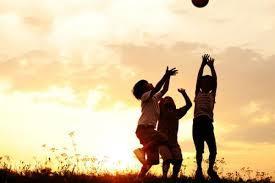 Hello Church family!
I am missing seeing you all each week, especially all of you kids! You really brighten my days with your smiles and laughter. I hope you are all still laughing and smiling at home, even through this confusing and challenging time. Just remember, God is with us no matter where we are or what is going on around us. We can have joy if we remember our blessings and remember how much we are loved and cherished by God. I am praying for each of you and can't wait until we can see each other again in person!
In the mean time, you can find a list of links to some wonderful Christian resources below. I hope you will use these things to keep close to God and help fill your days with the joy and hope that only Jesus can bring. I will continue to post resources as I find them, along with Sunday School lessons, story time, and Kings Kids lessons. I will post story time every Tuesday and a new King's Kids lesson every Wednesday.
I would also love to know how I can be praying for your family! So, send me an e-mail at jenny.rowley@saltcreekchurch.org, or a text at 971-720-9866 so that I can bring your specific prayer requests to the Father.
Blessings!
Jenny Rowley
Story Book Time and King's Kids resources:
https://www.facebook.com/saltcreekchurch/
https://drive.google.com/open?id=1HApJWxCR6J0rNupURZt5kfQObNKbkWSJ
https://drive.google.com/open?id=1ApBDM4BE_JpJV4tKtJRwX-12_-UVgR26
https://drive.google.com/open?id=1E-NC_1NRD4LHE-0l_tCpSoTGKHDlEpQS
https://drive.google.com/file/d/1Ib_o7tv09s_E64IzTcN0M4Nevqksa3Xh/view?usp=sharing
Family activities and devotions:
https://www.focusonthefamily.com/parenting/fun-family-faith-activities/
https://www.focusonthefamily.com/family-time-during-the-coronavirus-quarantine/
https://childrensministry.com/family-easter-activity-seedlings/?contact_eid=17251189-dada-4195-ab59-e7f959a91147&emaccount=grouppublishing&utm_source=bm23&utm_medium=email&utm_term=Read+More&utm_content=At-Home+Family+Easter+Activity:+Faith+Seedlings+%7C+Copy+These+3+VBS+Ideas+for+Sunday+School+%7C+Value+Your+Volunteers+%7C+A+Complete+Easter+Lesson+for+Families&utm_campaign=CM_Newsletter_20200327&_bta_tid=19072691865476417335822032109420324770609369696380247810270783789101733619343377158398492676946994960901
https://childrensministry.com/uplifting-easter-activities/?contact_eid=17251189-dada-4195-ab59-e7f959a91147&emaccount=grouppublishing&utm_source=bm23&utm_medium=email&utm_term=Read+More&utm_content=7+Quarantine-Friendly,+Uplifting+Easter+Activities+for+Families+%7C+6+Steps+to+Summer+Success+%7C+3+Meaningful+Ideas+Families+Can+Do+at+Home+to+Celebrate+the+Last+Supper+%7C+Make+Scripture+Stick&utm_campaign=CM_Newsletter_20200401&_bta_tid=42173608685476417335822032074710614183038009541716368407936483437022203858316054227279187136266343848453
https://childrensministry.com/last-supper-ideas/?contact_eid=17251189-dada-4195-ab59-e7f959a91147&emaccount=grouppublishing&utm_source=bm23&utm_medium=email&utm_term=Read+More&utm_content=7+Quarantine-Friendly,+Uplifting+Easter+Activities+for+Families+%7C+6+Steps+to+Summer+Success+%7C+3+Meaningful+Ideas+Families+Can+Do+at+Home+to+Celebrate+the+Last+Supper+%7C+Make+Scripture+Stick&utm_campaign=CM_Newsletter_20200401&_bta_tid=00495727195476417335822032074710614183038009541716368407936483437022203858317911137338115206678692534789
https://www.group.com/category/ministry-resources/free-resources.do?contact_eid=17251189-dada-4195-ab59-e7f959a91147&emaccount=grouppublishing&utm_source=bm23&utm_medium=email&utm_term=Find+this+week%27s+FREE+resources+today!&utm_content=New+Freebies+Added+to+Group%27s+Free+Resources+Hub&utm_campaign=CM_Free_Resource_Hub_20200402&_bta_tid=11902891405476417335822032101344073739253721716418782368948211630084585496804098415165920002211096336645
Videos and Online Lessons:
https://www.group.com/category/ministry-resources/childrens-ministry/sunday-school/empowering-courageous-kids/downloadable-lessons.do?contact_eid=17251189-dada-4195-ab59-e7f959a91147&emaccount=grouppublishing&utm_source=bm23&utm_medium=email&utm_term=Access+Free+Lessons&utm_content=Access+Empowering+Courageous+Kids+Lessons&utm_campaign=CM_Curriculum_EmpoweringCourageousKids_Drip+1&_bta_tid=07918581665476417335822032067040724173088696376431486522415626646648688788178179726917483609530139408506
https://www.youtube.com/watch?v=X9loMYXl92Y&feature=youtu.be
https://www.youtube.com/watch?v=GSaihNS08Fk&feature=youtu.be
https://www.gocurriculum.com/1-jesus-washes-feet
https://www.youtube.com/watch?v=pxdrBvSsxq0&feature=youtu.be